Hits: 2740
Payment gateway for brokers mt4 and another trading platforms (Payment Service Provider)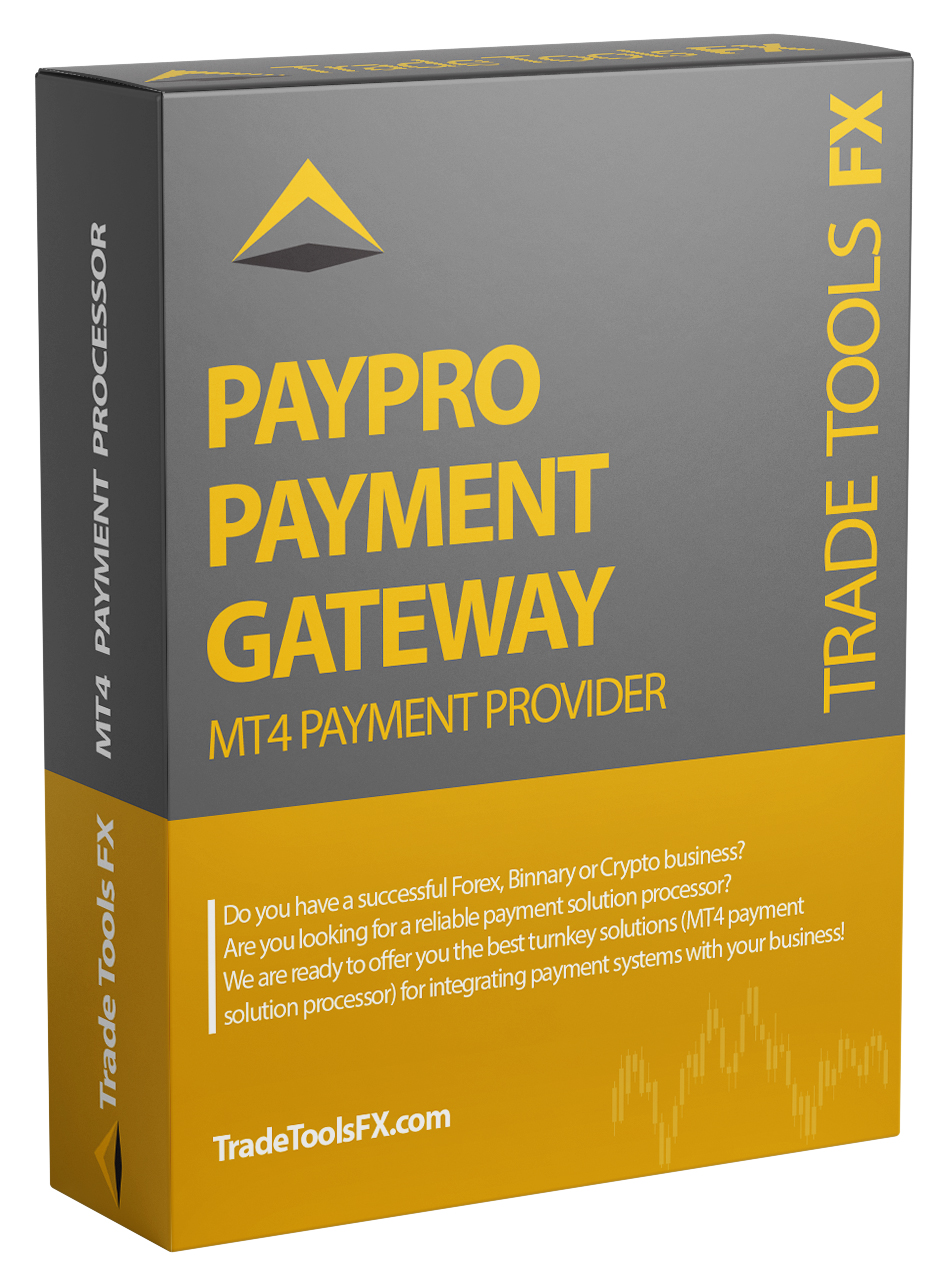 Very often, trade and service enterprises, especially forex or binary brokers, are faced with the task of organizing the acceptance of payments for goods and services through the site. The choice of a partner or software for accepting payments is a particularly important issue.
PayPro is a unique Payment Service Provider for integrating payment systems with mt4 / mt5, working with any kind of currencies.
The obvious solution is to contact the bank with which the broker works and which, quite possibly, also provides Internet acquiring services. The main advantage of working with a bank is that the bank already knows you and, with a high degree of probability, will connect online payments on your website. Registration of the package of documents may take some time, since various bank services are sequentially involved in the consideration of the application. But in general, a modern bank interested in developing the direction of Internet acquiring processes requests quite quickly. Despite a number of peculiarities, banks provide good quality Internet acquiring services.
At the same time, PSP or payment gateway has certain advantages:
- simple and fast integration - connection is fast and based on a minimum set of documents;
- stable operation of the system, in which payments are processed around the clock
- PSP (payment gateway) works with several banks and in case of temporary failures in one bank will switch transactions to another;
- an adaptive payment page that is displayed correctly on all devices: on a laptop, tablet, smartphone
- at the request of the client, PSP employees will customize the payment page for the website design rules;
- Convenient personal account that allows you to monitor statistics and transactions in real time;
- user support available around the clock;
- monitoring payments by an integrated system of protection against fraud;
- the ability to accept payments from customers from anywhere in the world.
As for the advantages of working directly with the bank, then:
- a personal manager is a privilege of a payment gateway, in this case, the solution of customer issues is distributed between different departments;
- the bank has the opportunity to consult with a specialist, but, despite this, there is no round-the-clock technical support, to which you can actually get through and resolve the issue promptly 24x7x365;
- like a payment gateway, in your personal account you can make refunds, including partial ones. It contains customer data, statistics on transactions, detailed instructions for its use. There is no need to go anywhere else for detailed information;
Summing up the above, we believe that choosing a PSP, an online business owner solves most of the issues much faster and easier than if he used the services of a bank. Therefore, it is logical to conclude that if it is necessary to organize the acceptance of payments through the site, a payment gateway is an obvious solution for a merchant.
The main advantages of the PayPro MT4 and another trading platforms payment gateway, which fundamentally distinguish our Payment Service Provider from others:
- The payment processing system is designed as an online application that provides constant access;
- all operations in one window with filters, the ability to download and in-system currency conversion;
- connection of a payment gateway is simplified as much as possible, including cryptocurrency payments, no special skills are required;
- setting any commission for processing payments, both for banks and for users;
- the number of payment gateways is not limited, provides many-to-many communication, you can use existing ones or connect your own;
- centralized control panel control system with setting access rights;
- the most simplified system for connecting servers of various platforms for making payments, which does not require special skills;
- you can connect an unlimited number of your clients;
- a centralized white label management system for your customers with the ability to install, replace, purchase, etc .;
- virtual terminal for testing the payment dialogue and applied settings;
- centralized control panel for withdrawal requests with a ticket system;
- ease of installation and maintenance;
- no country restrictions;
- the ability to block clients by country;
- fast transfer or receipt of money from anywhere in the world.
Why should you contact TradeToolsFX?
- we have been on the financial services market for over 15 years, any payment integration using the payment solution processor for Metatrader 4, FXGO and others;
- integration of various financial instruments is what we do best;
- in our staff there are only highly qualified specialists;
- we know what corporate secrets and information security are!
$ 500 is the cost of integrating your resource with any payment services using PayPro (PSP gateway). Any development of our company is at your service!
Product page: https://www.tradetoolsfx.com/index.php/payments-solutions